Big, busy cities nowadays lack parking spaces. Kuala Lumpur (KL) is no exception. If you're at the downtown city centre, it has perhaps been a driver's nightmare that gets them to end up circling around the streets looking for that one spot for their vehicle nowadays. This problem has pressed for the demand for many driveways in the long run. Or perhaps, if you're a condo unit owner and you've got a spare parking space, why not have it up for rent?
Parking for rent is a surefire way to have passive income for you. You'd be surprised that the requirement for parking spaces is so high that it's time you think about going into this kind of business.
What are the advantages of having your own parking space for rent? What should you know and consider before renting it to others?
Below is a list of tips and guidelines to help you get ready to rent out that idle parking space you have:
Make a survey of nearby commercial parking rates.
For you to be competitive in the market, you would need to do a survey of nearby commercial parking rates. How much do they bill per month? Just walk by the commercial buildings around your condo and check the price rate, then you can check Roomz parking for rent listing to know what is the price other landlords are offering. In this way, you can offer the better deal – a cost that would be beneficial to you as the landlord as well as the potential renter.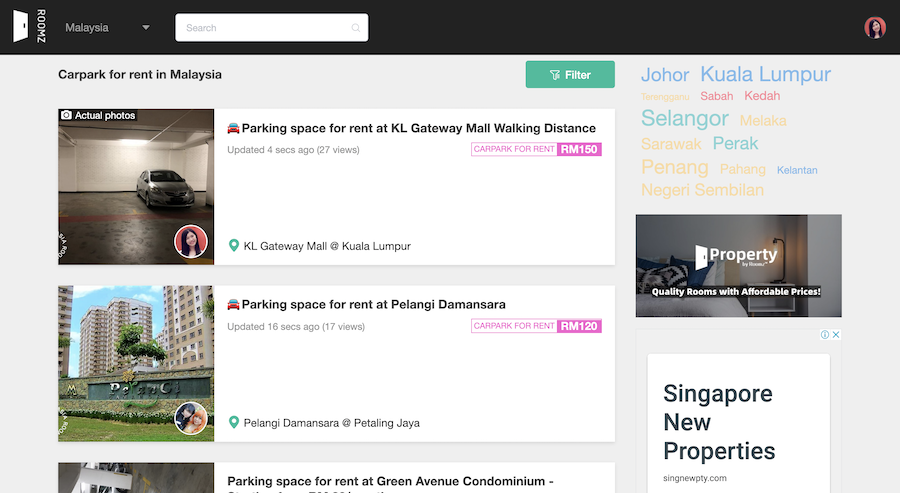 Advertise and have the parking space listed
All you need to do is check what would work for you and have your parking space listed on Roomz appropriately. You should describe your space as accurately as possible like which floor the parking is, how far to the lift or lobby, the adjacent commercial buildings, and attaching some actual photos and check the "Actual room/unit photos" on Roomz car park for rent posting page. This is to ensure the potential renters have a clear idea of what to expect. Before you know it, you will have bookings in a minute. By the way, posting your car park for rent advertisement on Roomz is free.
Earn a passive income on parking space
Do you know that parking space is considered real estate? Of course, we all know that the best advice you can give in this industry is "location…location…location." It definitely applies here, too. If your parking space happens to be at the prime spot in the city – it will make more money for you to have it rented out.
The location that you have will either make or break this business. Location affects how much you can make, more so if the said space is near a landmark, Class A offices or college. For KL, you can make roughly RM10/day for a rental in parking space. You may actively do re-post on the listing you posted on Roomz to make everyone aware of your parking space for rent listing. Remember, your potential renters could be your own condo neighbours or those who are working in nearby offices who find commercial parking rates prohibitive.
Have a written contract.
It pays to have a written contract between you and the renter, especially for long-tenure parking. A legal document can save you in case of any disagreements later on. In the contract, mention explicitly the specific details on the parking space for rent, during what hours is the tenant allowed to make use of it and what type of vehicles can be parked on it. You can also cite that the renter will be responsible for any damage to the property.
You'll have your own share in the city's improvement & economy.
Having your own parking space for rent and letting someone use it is one scheme where you can help alleviate parking woes in your city such as KL. If you lessen the number of vehicles circling around for a parking spot, it certainly improves air quality. It also lessens traffic flows in residential areas. Having parking spaces rented in your condo is a remarkable way to reduce the number of vehicles parked in unsuitable locations in the city as well as areas that are already too congested. Indeed, it's also an excellent way to have your own personal contribution to the city's economy with the income that you can generate out of it.
In summary, we have seen how a parking space for rent can be a win-win situation not just for you who's left with a spare parking slot in your condo, but more so in doing good to your city as well. Take note that having said that it's just like real estate, unlike a property for rent – the process of having parking for rent is so simple, easy and hassle-free.  So, if you've got that space – go and have it listed now.