During the month of Ramadan, droves of Muslims throughout Malaysia and across the world fulfill their religious obligations by fasting and praying. When the sun sets and the time for breaking the Islamic fast arrives, both Muslims and non-Muslims alike can find delectable selections of food. These exclusive Ramadan offers can be found in numerous places throughout the Klang Valley and if you know where to look, you'll uncover Buka Puasa buffets and bazaars that are especially in vogue during the fasting month. You'd hardly find a better time in Malaysia to sample some of the most delicious, uniquely Malaysian cuisine prepared by some of the most experienced culinary talents in the country. Here's a list of some buffets and bazaars near our Roomz unit that you can check out.
Warisan Desa Buffet at Le Meridien KL
Here, you can find a feast made up of traditional heritage dishes a la Ched Budiman at Le Méridien Kuala Lumpur. Every year, this landmark makes it a point to prepare special cuisine based on the incoming festive seasons. This time around, an assortment of must-try dishes including the Roasted lamb and other meats, Popiah basah Malay (spiced spring roll), Mee kuah putih salmon sambal kering pedas (salmon white gravy noodles with dried chili paste), Sendi berbiri kuah merah tairu bawang putih (lamb shank cooked in red sauce with drizzles of garlic yoghurt) and much, much more can be found at this hotspot.Se
Guests can also experience a selection of various non-Malay dishes including signature menu items of Chinese, Indian, Western and even Japanese origin. This dinner buffet offers a daily menu change so diners can drop by more than once in a week and be pleasantly surprised by the alternating choices.
Selera Malaysia Buffet at Grand Millennium KL
The Grand Millennium Kuala Lumpur strives to present various Malaysian flavors at The Café's festive spread this year, featuring wholesome dishes that many Malaysians have come to know and love with classics like Gulai daging salai, Ayam golek, Beef rendang, Sotong masak hitam, Nasi hujan panas, Whole roasted tandoori lamb, Bubur lambuk, Whole baked sambal ikan siakap, Lemang, Serunding, and a succulent bone marrow specialty known by locals as Sup Gear Box.
Diners will be given the choice to include an additional dome set of dishes that may be served at their table and is suitable for approximately 8 to 10 people.
Citarasa Malaysia Buffet at Grand Hyatt KL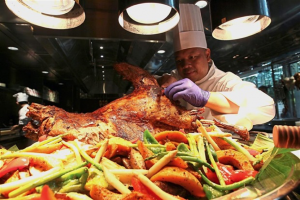 If you are familiar with the Grand Hyatt's culinary localization, you may have heard of The Citarasa Malaysia Buffet. With a massive selection of choices ranging from local delights like Lemang and beef rendang, Roti canai and naan with tandoori chicken, Tapioca leaves in coconut milk, Lamb varuval, Braised beef curry and Popiah basah to live stations serving chicken rice, seafood frilled a la minure and noodles in soup.
If you're a lover of 'roti john' then be sure to give JPTeres' version of the local favorite a try. Additionally, the Citarasa Buffet's choices of desserts including the pandan chiffon cake with some kaya or a scoop of vanilla ice cream on top.
Bazaar at Bangsar 
The Bazaar at Bangsar is another highly reputable Ramadan hotspot. It is home to some of the best of all that is bakar; namely sotong bakar (grilled squid), ikan bakar (grilled fish) and ayam bakar (grilled chicken, also known as ayam percik). Make sure you explore the entirety of the bazaar as it is smaller than other large bazaars.