One thing many people may be confused with when they come to KL is the KL public transport, especially the train lines. For the sake of easing your life we decided to quickly simplify the Kuala Lumpur transit system…
For easier understanding here is the list of all the operational train lines in Kuala Lumpur:
KTM Seremban Line: from Batu Caves to Gemas
KTM Port Klang Line: from Tanjug Malim to Port Klang
Regarding KTM lines, they can be a bit confusing as both Seremban and Port Klang line intersect at the KL Sentral station which may be confusing for a lot of travelers so our suggestion is to pay close attention which KTM line you are using. Also one minus about this line is that it is super slow, meaning that sometimes waiting for a train can take longer than 45 minutes depending on various elements.
LRT Ampang line: from Sentul Timur to Ampang
LRT Sri Petaling line: from Sentul Timur to Putra Heights
As you can notice the two LRT lines above share the same final destination but at one point (at the Chan Sow Lin station) they separate, with Ampang line ending in Ampang and Sri Petaling line ending at Sentul Timur.
LRT Kelana Jaya Line: from Gombak to Putra Heights
KLIA Express Line: Direct line from KL Sentral to KLIA. Convenient for those in a rush.
KLIA Transit line: The same train line but with more stops between KL Sentral and KLIA.
KL Monorail Line: from KL Sentral to Titiwangsa
The relatively short but fully elevated railways line that pierces straight to the main strategic points of Kuala Lumpur city centre.
MRT Line: From Sungai Buloh to Kajang
MRT is the last finished line which connected the before isolated parts of Selangor such as Sungai Buloh, Damansara and such with the KL City centre. Very convenient public transport line that saves a lot of commuting time.
On the picture below you can find all the train lines going through Kuala Lumpur and Selangor. In case you want to find out more details about the future public transportation projects and general info, feel free to visit KL City Guide Website.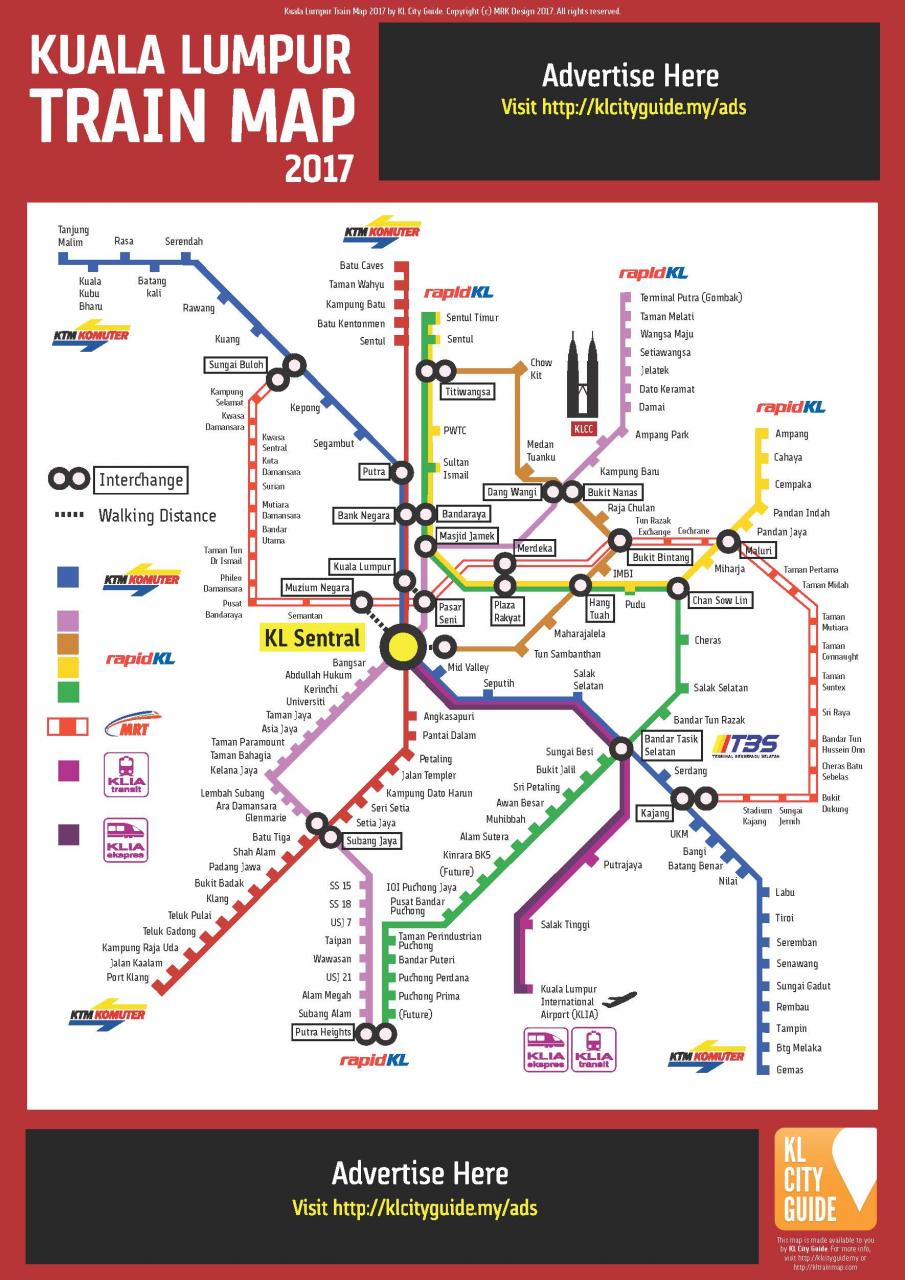 To ease your life you can also download the latest full Kuala Lumpur Train Map here: Kuala Lumpur Train Map