Recently, Roomz has received numerous reports from tenants becoming victim of rental scams. The number of cases is staggering, and we are saddened to hear every time a victim calls to announce the news. Scammers have become more and more daring, pretending to be agent, owner or related individual and they work in groups. Roomz has round up some tips and things to look out for when searching and negotiating for a room. We hope this guide is useful and could alleviate the number of victims.
Is the offer too good to be true?
Be suspicious and do more verification when a deal is too good to be true. Scammers often use this tactic to blindside potential victims. Shifting focus to the attractiveness of the deal while exerting pressure for an immediate decision, else, it would be gone as there are several interested potential tenants. When the victim agree, next step would be placing a down payment, most likely in cash for a refundable deposit to secure the unit.
Conduct verification
Never hands out or transfer money to an agent, all funds should be directed to the agency instead, including deposit. No matter what the agent says, providing you with a receipt or signing some documents, beware of gimmick to divert attention. Dial up the agency to verify its existence and verify the agency through the government portal at SSM Malaysia > log in > search company and business information. You would need to register for an account, but it will only cost a few minutes of your time. That is nothing compared to the hours of searching, negotiating and traveling all the way to meet up with the agent.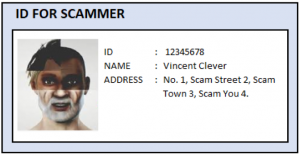 And more verification
Verify your agent by giving the agency a call. Ask for a name card and get their license number. Next, conduct a search at LPPEH Malaysia > search > search for negotiator. Verify the information with Malaysian national ID card of the agent. As mentioned earlier, they work in groups. Some might use a representative, giving excuses such as the agent is too busy, in an emergency or out of the country. One should only deal with the agent.
Again, do not hand out cash
When dealing with landlord, do not hand out cash. No one has the word landlord written on his forehead. Ask to verify property ownership by reviewing the property title and the sales and purchase agreement. Verify the person's ID number and only make a bank transfer while making sure the name tallies. Hold the receipt.
 Potential red flags – in short
The process seems rushed.
Deal seems too good, below market price and lucky it is still available as number of viewers are piling up.
Dealing with more than one party, as the agent or owner is busy.
Agent, landlord or representative asking to deal in cash. Deposit in cash.
Reluctant or refuse to provide ID or documents to conduct verification.
Only one photo used and in multiple listing. Unit shown not the same as picture or it could be exactly like it.
Bank beneficiary is a different person.
Stay knowledgeable, Only YOU Can Save Yourself from Getting Scammed!
Roomz has been working actively to prevent scams from our listing. It is almost impossible to eliminate scams from happening entirely. Scammers are constantly looking for ways to dip their hands in victims' pocket. Although we cannot assume responsibility for a crime that others commit, we are dedicated and have focused our strength into helping as much as possible. We believe the first step to avoid being scammed starts from having the knowledge to do so. Therefore, we are committed and constantly upgrading as well, so we can arm others with the power of knowledge in staying ahead of scammers.
A recent scam has claimed 2 victims
Victim 9 came across a listing for Parkview Service apartment which is 35% lesser from the current market of RM2,000. Together with Victim 10, the viewing of the unit was conducted at 8pm with limited time slot and at odd hours. The unit look exactly like the photos and video. The scammer, Mr. Benjamin Yong, which is not his real name, told the victims that there are 6 people that are willing to see the unit. Moreover, the owner just did some renovation and would like to let it as soon. The victim agreed to take it and transfer the money to an account belonging to Muhammad Haekal as requested. The key was handed to the victim and the scammer took him for a tour of the facilities.
Victim 10 check back the next day for another unit. Benjamin would reserve a unit for a RM1,000 down payment. Victim 10 then transfer the money to the same account. The victims contacted the owner and the owner confirmed that is was a scam.