Renting a room is affordable but risky. Many problems can arise when dealing with individual landlords such as rental agreements, utilities and property maintenance and housemates. All our rooms come with standardized furnitures, utilities and services that provides our customers with peace of mind. 
Now, let's see how does Roomz manage all these strangers living in a shared space? Even people who have been friends for the longest time fallout due to conflict in a shared living space. It could be cleanliness in the toilets and kitchen or having too many people over at odd times of the day.
Most of the time, if the situation is not addressed properly, tenants end up moving out or worse getting into fisticuffs without having proper mediation and conflict resolution. It might seem like a small thing to some, leaving dirty dishes in the sink, but after a long stressful day at work it's these little things that disrupt the feeling of coming home to a safe haven.
To ensure that all the tenants are comfortable and happy in their home, one of the steps that Roomz has initiated is to put up posters for certain sections of the home; namely the kitchen and the bathroom. These signs are strong reminders for the tenants to keep themselves in check. Should any problems arise, the Community Assistants are there to step in and intervene.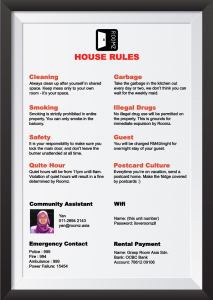 The Community Assistants are there to help resolve any conflict that arises as well make sure that House Rules are followed. One of the House Rules is where each guest of the tenant will be charged RM40.00 for staying the night. This will eliminate other tenants feeling dissatisfied as everyone is paying for their share of the utilities.
Roomz also has a postcard culture, where they encourage tenants to send postcards home from places that they're vacationing, these postcards will then find a place of honor on the fridge. Not only it's a change from sending the all too usual email, it's a touch of whims that also helps creates closer bonds between the tenants. The other House Rules are about cleanliness, safety, consumption of drugs and alcohol.
To further ensure safety and privacy, every room is labeled so that tenants and their guests are aware and do not enter mistakenly. There are so many steps taken by Roomz to make sure that each tenant feels like they have a say in their home. Steps like these make things easier for the Community Assistant to manage each property.
It's things like this that makes Roomz the perfect fit, especially for first time tenants. They will have some guidance and help to maintain to their home all the while being responsible for it.
This is one of the differences of Roomz to normal property landlord. We will share more in detailed soon.