Roomz Comprehensive Logo Rebranding with Instant Logo Design
The business environment constantly evolves, and the logo designs reflect that change. And Roomz is no exception!
We need a new logo that is more than just an artwork, or stylized text was required, something that would grow with us as we expand to other property for rent segments.
A Quick Look at Roomz. Asia's Logo History
In 2016, Roomz started with a simple idea. Our co-founders wanted to make it easier for Malaysian young professionals and students to save time on the room viewing with actual photos of the room and common area in the compound and safeguard their money from the room rental scammer with listing owner verification.
Our in-house team then created our own logo for Roomz. The original logo concept was made up of a 'door' symbol representing room or accommodation. Along with it is our brand name 'Roomz' with easy-to-read font written vertically and a touch of orange that portrays the character of 'joy,' 'warmth,' and 'change.'
As we constantly looked for new ways to improve our services, Roomz quickly grew across the country. We started offering a wide range of other rental services, including renting properties, short-term homestay, car park, and event space for rent.
While the original logo was a good start, we felt that it could do better! As a result of this expansion, it became evident that we needed the perfect logo that reflects our growing company while also being flexible enough for future use.
We plan to create a comprehensive rebranding that combines relevant elements of our values, mission, and goals, enabling us to take our business further!
We want to make a business logo design that looks good, resonates well with our target audience, and helps portray our brand values.
After analyzing the strengths and weaknesses of Roomz's current logo, we decided to use an online logo maker called Instant Logo Design for our comprehensive logo rebranding project.
What is Instant Logo Design?
Instant Logo Design (https://instantlogodesign.com) is an AI-powered logo creator like Looka and TailorBrands that helps businesses and brands create a custom logo design in minutes.
With its easy-to-use interface and wide range of templates and styles, you can develop professionally designed logos that perfectly represents your business.
The best part about this is that everyone can design their professional logo for their brand, business, or company, whether or not they have experience in designing and programming, which is an ideal option for us considering that our founders and team don't focus on design aspects.
The New Logo Design Process
We first started visiting their website and browsing the whole page. Surprisingly, the interface was pretty easy, and there were multiple logo versions to choose from.
Then, we thought of checking the 'logo template' and viewed the startup logo ideas to inspire us in creating our own company logo.
On the bar placed at the top of the page, we typed in our company name and selected some symbols relevant to property like a room door, condo, bed, building, dome, and others, and pressed enter for the generation of the logo.
But here comes the magic! The website quickly generates hundreds of logo templates in no time. They showed our customize logo styles we selected earlier and some other logos ideas with our brand name, Roomz!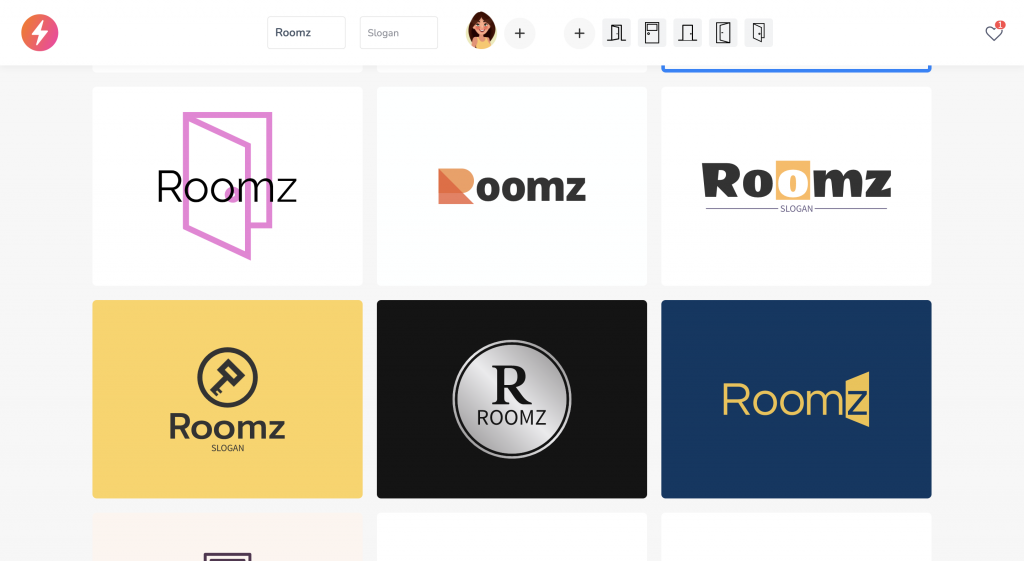 After checking around 200 logos, we saved our top 3 picks to decide which one should be our new logo. But given our design experience, we didn't want to play around and mess up with the font type size, edit the color, and make some personalization.
The good thing is, the Instant Logo Design is literally made for people like us!
They've given us an option to customize our professional logos and selected the font style, icon, layout, and color combinations available.
The process was easy, simple, and fun! That's why we were able to create multiple versions and custom logo mockups in an instant!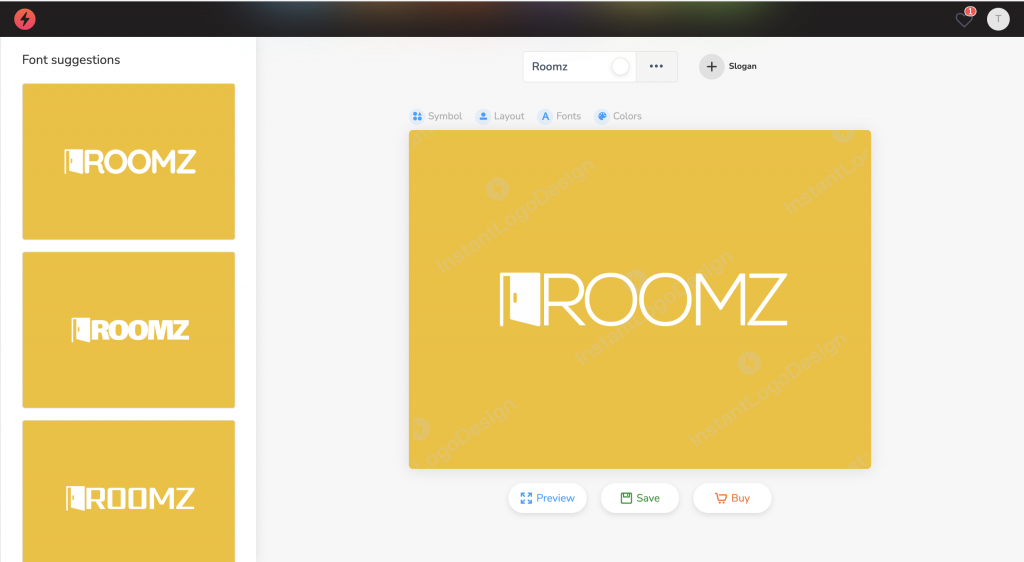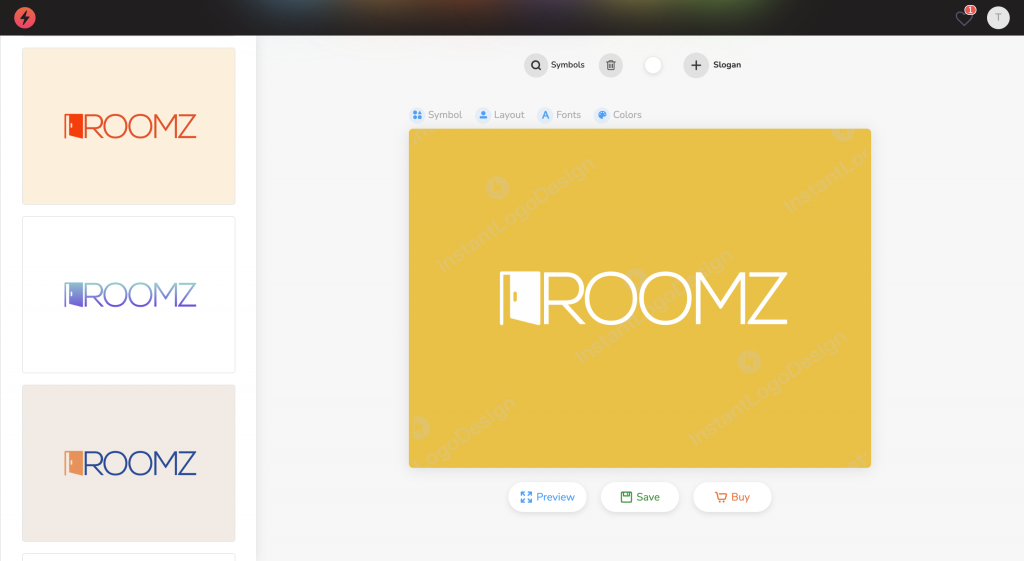 And there's so much we can do with our final design!
The website allows us to preview our final logo design by creating an animated effect and placing the logo in a different backdrop and brand kit to help us visualize how it would look in print media and on the web.
Once we had settled on a final design, we finally landed on the checkout page and chose the logo files for any format we could use on the web and printed versions.
How Instant Logo Design Has Helped Us
Our staff at Roomz are super excited and thrilled with the rebranding efforts and process we went through, and we are convinced that this new logo will take our business to greater heights!
We believe that what we choose as our updated logo is perfect for communicating our company's principles and future growth.
Roomz is a company that will continue to pride itself in being the best option for users looking for quality, convenient, and affordable accommodations. We're dependable and trustworthy, and we always put the customer first. We also believe in having a little fun along the way.
We are confident that this new business logo will take our business to greater heights!
The old logo was dated and didn't accurately reflect Roomz stood for. The new Roomz logo is stylish and professional, and it's already receiving a lot of positive feedback from customers and partners.
Everything was created in less than a day and cost a fraction of the price it would have taken to design from scratch. We are very proud of the result, and we are excited to see how it displays across our website and social media pages.

Want to try it for yourself?
If you want to create your logo online, Instant Logo Design offers a free logo generator feature that gives you the chance to scroll through an unlimited number of designs to get inspiration.
You can try to make a logo until you finally find and customize the logo you're willing to pay for and download. But you can also take advantage of clicking the new Roomz logo and wait until we've reached 20 likes and engagements in order to get an upgrade for their brand plan, all for FREE!