Top 5 Event Spaces for Birthday in KL
Celebrating birthdays? Why do we bother to celebrate special milestones in our lives such as birthdays? It's far more than the opportunity of getting together with family and friends sharing happiness over you surviving another year.
At the time now of the Corona Virus pandemic – it is not easy to do what we used to do. With the concern on gatherings and social distancing, it is clearly impossible. Or maybe just with family at home is the best celebration you can get. Many are looking at Zoom parties where everyone goes online and share whatever they are doing. If it's a birthday celebration – perhaps, everyone is asked to share the food and drinks they have on-screen at the moment. One can offer a toast, some can carry DIY birthday cards or placards to greet the celebrant. Maybe singing songs as well. It's where your creativity comes in. People who are dear to you who are not with you in your own home can still feel the love and warmth with the online presence. But maybe this is just for the meantime, at least for now.
A few months from now when this is all over – we will easily get back to the celebrations we've been used to. But with some precautionary measures perhaps. Seats on a table will be lesser maybe, with a seat apart as an SOP. We will see what the new protocols will be in the future. Still practising the social distancing but nevertheless, celebrating an event like a birthday in the same loving and meaningful ways. Event places are popular for the simple reason that it can make things easier for you.
With many options offerings, their spaces – choosing one venue can be a tough decision. After all, you can only celebrate birthdays once a year and with it, there are special milestones like your 7th birthday as a child, 18th birthday or debut (for ladies), and lastly, a golden birthday (50 years old) or a senior birthday like 75 or 80 years old. Whatever it is, each celebration needs to be special and heartwarming.
Choosing the right venue entails a number of factors like logistics, interest and cost. What is the size of the party? Would you want to bring along your own food, drinks and cake? Or would you prefer a venue that provides everything? What is the interest of the celebrant? Does he/she have a birthday theme or a dream birthday concept? Will the venue appeal to the celebrant and his guests? If the party is to be well-attended, it pays to have a venue that will also excite the guests who are usually family, relatives and friends. What's the extent of the budget? Make sure you understand what the bottom line for the venue cost is and check if there are hidden charges for refreshments, for example. Make sure it falls within your allotted budget.
After considering the logistics, cost and interest, you proceed to select the best event venue. The market has a number of options and it is up to you to check and review each one. The following are the top 5 event spaces in KL for birthdays – we will give you an overview of what each one has to offer:
At the centre of it all, right in the heart of Petaling Jaya and Kuala Lumpur is a collection of amazing event venues called the I-Space world. So, if you're looking for a unique experience venue for your birthday dinner whether "by-invitation-only" private function or a grand celebration in style — nothing beats checking them out.  Clearly, the I-SPACE is one of Malaysia's leading events management venue companies with a selection of over 20 venues in the cities of Kuala Lumpur, Selangor and Penang.  They have training and meeting rooms, glasshouse, rooftop, banquet hall and a hidden bar.  What does I-Space do best?  YOLO or "You Only Live Once" is the attitude they bring with any project they work on – proof of the commitment that they put into their work.   If you want a birthday surprise that will definitely wow the celebrant and the guests – then go for this group. They will take care of everything from concept, planning, marketing and execution, of course.  All details will be carefully considered by this company so all you need to do is relax and wait.  Explore the world of I-Space and its collection of unique event venues right in the heart of Kuala Lumpur & Petaling Jaya.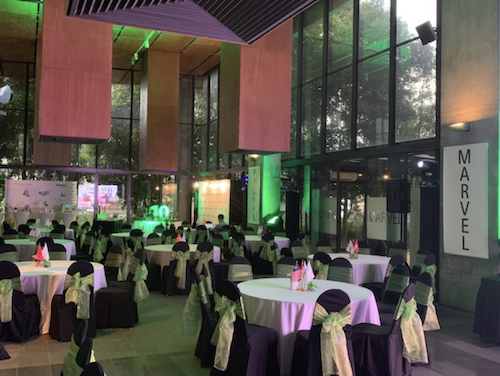 For more intimate and personalized birthday parties, you can count on Party Nutty.  From initial planning until the end of the party – you can depend on this group to do one great job for you.  First of all, no need for you to buy the party supplies or props as you can just rent them here. You can even have "do-it-yourself" decorations and just tell them what to do for some planning and execution.  Party Nutty is KL's one-stop party props rental shop which was formerly known as Belle Notes Wedding Hut. Their venue space of 342 sq ft is good approximately for 30 persons (seating only) and 20 pax (seating with tables).  Amenities include the tables and chairs, air conditioning, WIFI and optional items are the projector and projector screen.
L'MOTICHAN
L'Motichan is located at the heart of the city of Bangsar, a group pf mortar and brick structures interspersed with flowing water and green, lush foliage. This is one of the best event places to watch out for. A memorable experience is what you'd look forward as you celebrate that important milestone in your life. Definitely, the best event venue in this part of the area of Bangsar. What's great about this place is that it is wheelchair-friendly and has disabled-friendly toilets, too. Talk about inclusivity.
Are you up for some romantic evenings under the moonlight cascading in the waterfalls – no need to just imagine it now? Snap those Instagram-worthy photos amidst their huge garden corners. You may opt to play and dance with the water under those massive rain curtains, too. An event can be dreamy and awe-inspiring in the choices of layouts here like the Salon and the Courtyard. This place also caters to other events such as cocktail parties, product and media launches as well as corporate events like townhall sessions and teambuilding activities. Note that they also offer a dedicated cooking area for caterers who want to whip up meals right on the spot.
Just to add, this venue has a Loft, too – a whole floor consisting of 7 bedrooms with ensuite bathrooms. This area has an exclusive recreational spot with heated saltwater pool and jacuzzi – perfect for any summer day or night event. Sounds exciting, right?
Many would know about SkyArk Event Spaces since it is undeniably one of the leading and highly-favoured event spaces in KL. Very flexible – their halls are carefully planned and designed to cater to various private and social events. It can do as well for corporate and entertainment events. Why they can even host a music concert so that's how versatile this venue is! They can host just about any event that you can think of the guarantee to give you the best time of your life. The distinguishing factor that sets this apart from the rest is that it does not just provide an empty, idle space but it offers complimentary facilities and services. What they want is a stress-free event for you whenever you book an event with them – leave it to their professional team to take care of that.
Cloud 16 is centrally located in KL – offering you a studio, a meeting room, a training room and a unique venue.  Their venue's capacity size of 1,500 sq. ft can accommodate from 10-100 persons, depending on the event. They also hold workshops, classes, corporate dining events and formal meeting. Even shoots/photography is being offered.
Cloud 16 is an event space strategically located at Level 16 of 3 Towers in the KL city centre.  A studio corner unit has the breathtaking panoramic view of the Ampang skyline – with its surround floor to ceiling glass windows breathing out natural light, too. The ambience is clean and simple in white and blonde wood with nice aesthetics. Amenities include projector/TV, air conditioning, microphone, whiteboard, sound system/speakers as well as compact chairs, tables and power plugs. There are a private restroom and a small pantry for coffee and tea.  Good news!  Parking is available for guests at the basement levels and it is free of charge since this is an entirely new building. Plus, there 's a pick-up and drop-off lobby in this establishment. Security is on 24-hours, 7 days a week.  This venue is mostly accessible by car due to its central location in Jalan Ampang (after Gleneagles Hospital) and just an 18-minute walk from Jelatek LRT.
As families and friends celebrate with you as you mark another year full of love, hope and gratitude – you can be assured that it will be a heartwarming, memorable moment. Capture all these emotions in a venue that you've well-thought of. A venue that's worthy and will be raved and talked about positively by your guests even after it has ended. It pays to choose the right venue as you go through well the details of the event.