E-learning or online learning has gain popularity in recent years. In an article by SupplyGem, 50+ eLearning statistics, the online learning market worldwide is projected to hit USD325 billion by 2025. In Malaysia, we are catching up with the trend. Here are 5 e-learning website that focus on the local syllabus.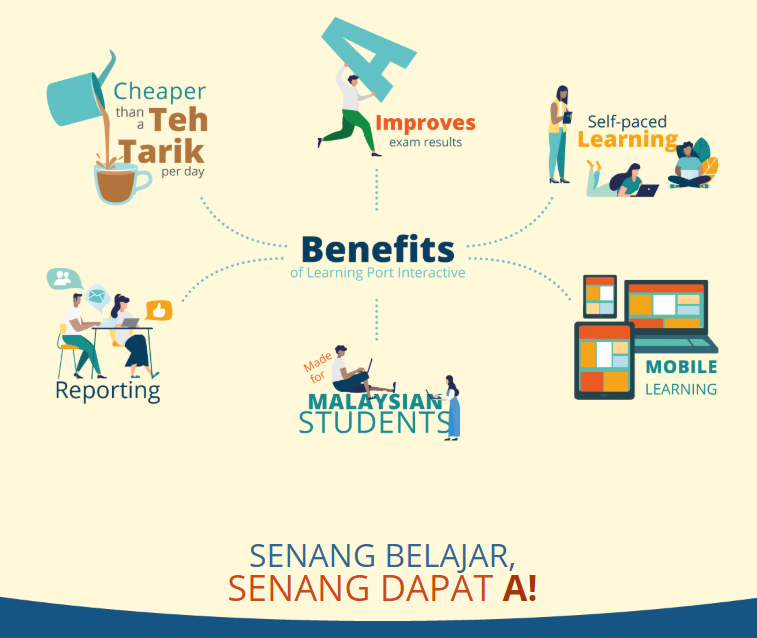 Offers online learning and revision resources to assist and prepare students for examination. Feature hundreds of lesson for each subject presented with full interaction and animation to keep learning fun With question bank that offers thousands of sample questions and detailed answer and full explanation.
Upcoming MyGuru for student's questions, answered by trained professional in a personalized and detailed solution.
Education Level : Year 1 to Form 5
2. Pencil.my – Freedom to prepare, at your convenience.
Access from anywhere and anytime, at your own schedule. Offers high quality content of KBAT and iThink to bring innovative thinking to another level with the aims to enhance development. With statistics that chart strengths and weaknesses to target area of focus. Earn badges to keep students motivated and experience teacher to help and guide.
Pencil teacher allows teacher to store and organize question bank and earn extra income. Personalized URL and teacher's page, distribution of questions and manage question bank all in one place.
Start your free trial today.
Education Level : Year 1 to Form 5
3. Vschool Trend – Study anytime. Anywhere.
Study online and offline, anytime and anywhere with Vschool Trend. With 12 comprehensive features, from colorful notes, animated video, exercises, evaluation and many more. Features were developed to make learning fun and engaging. Track the progress of your children with parents log in and find out areas that need more focus. Benchmark your child's progress with the top 100 students. Encourage students to participate in the contest and win a smartwatch. Studying is so rewarding.
Education Level : Year 1 to Form 5
4. BACFreeschool – FREE education for Malaysian !!
A free online education platform, funded by BAC Education Group with the support of Ministry of Education, BACflix also known as BACfreeschool is a not for profit organisation. Learning and delivery through collaboration with experienced educators based on Malaysian school syllabus. Online learning, guided videos with clear explanations, including weekly e-Tuitions session and webinars.
Education Level : Year 1 to Form 5
5. i-LEARN Ace – A hybrid approach to revision
Developed by Sasbadi Online, a subsidiary of Sasbadi Holdings, i-LEARN Ace offers hybrid learning, through online and offline with Mobile i-LEARN Ace application (App). There are 9 features namely:
(a) Notes
(b) Mind Maps and i-Think Maps
(c) Assessment
Objective Practices
Subjective Practices

PBD (Pentaksiran Bilik Darjah) Practices
PS (Pentaksiran Sekolah) Practises
Oral Practices (Listening and Speaking Skills)
Language Arts Practices
Toward UPSR, PT3 dan SPM Practices

Test Papers, Kertas Percubaan and UPSR, PT3 and SPM Model Test Papers
(d) Progress – Reports on a performance that are clear and comprehensive
(e) Reward and Motivation
(f) Dictionary
(g) Video Lesson
(h) Mobile Application
(i) Assignments – Teacher and Parents
Education Level : Year 4 to Form 5
6. Education.com – Get the Help You Need for At-Home Learning

Education.com offers a library of digital resources, tools, and learning materials, developed by educational experts. Innovative learning delivered through games, printable worksheets, guided lesson, hands-on activities, science projects and many more. Each and every material is carefully reviewed by a team of an experienced teacher to ensure the highest quality and addresses core skills.
It is a useful resource center for teacher as well which offers lesson plans, worksheet generator and common core. Although it is not Malaysia Curriculum focused, it has so much to offer and suitable for any kids.
Education Level : Preschool, Kindergarten to 5th Grade
Online learning, could it be the future of learning? Have a better platform or place to learn? Please drop us an email [email protected]