Selamat Hari Kemerdekaan 2019 to Malaysia!
Malaysia's Independence Day, also known as Hari Merdeka is just around the corner. It happens annually on the 31 August and there will be Merdeka events happening all over Malaysia to celebrate the special day.
This year we are celebrating 62, with Sayangi Malaysiaku: Malaysia Bersih (Love Malaysia: A Clean Malaysia) as the theme.
Where to go for Merdeka celebration?Here are a few events to attend.
1. The Merdeka Parade
The biggest celebration is The Merdeka Parade. In the past, the celebration was mostly held at Dataran Merdeka in Kuala Lumpur, near the famous Sultan Abdul Samad Building.
This year, it will be held at Dataran Putrajaya. Be early to grab the best view of the Perbadanan Putrajaya building and Istana Kehakiman building (palace of Justice). Aside from the iconic and famous Petronas Twin Tower (KLCC) and KL Tower which is in Kuala Lumpur, Putrajaya is home to some of the most beautiful buildings in Malaysia, such as the Perdana Putra, Seri Perdana, Putra Mosque, Putrajaya International Convention Centre, The Tuanku Mizan Zainal Abidin Mosque, The Diamond Building, Istana Darul Ehsan, Istana Melawati and Ministry of Finance building.
What to expect.
The arrival of Royals and a royal procession, military and cultural performances, flypast by Malaysian air forces and many more eye-opening performances throughout the day.
Venue : Dataran Putrajaya, Persiaran Perdana, Presint 3, Putrajaya.
Date and Time : Saturday 31 August 2019, 7.00 am
Merdeka celebration is one of the most important event for Malaysia, and deserves a big bang. Genting has lined up a firework display which they call it Fireworks in The Sky. What a brilliant idea to have it at Genting Highland, with a breezy weather and located at 1,800 meters above ground, it will be a grand display and a memorable event.
What to expect.
Spectacular fireworks display above the clouds, with unblocked view. Enjoy shopping and dining at Genting premium outlets and Sky Avenue. Family friendly entertainment and games outlet suitable for all age groups. Or just sit and chill at Starbucks with a cup of warm coffee.
Venue : Sky Avenue, Genting Highlands, Bentong Town, Pahang.
Date and Time : Saturday 31 Aug 2019, 8.00 pm
Walk together for unity, harmony and tolerance. As a country with diverse culture and traditions, it is important for Malaysian of all races to stay united in harmony. Let's get together to form stronger ties and understand each other more, and let it be a reminder for all Malaysian on how far we have come. Lastly, let's share and spread the Merdeka spirits, for a better Malaysia, it begins with you. Please check the locations to attend either Shah Alam, Penang or Johor.
What to expect.
Goodie bag for participant. Pit stop along the way with fun filled activities. Food bazaar, workshops, game stalls etc. Prize draw and registration required. Please check with individual organizer for more information, requirement and preparations.
Venue, Date and Time :
1. Eco Ardence Sales Gallery, Persiaran Setia Alam, Setia Alam, 40170 Shah Alam, Selangor. Saturday 31 Aug 2019, 4.00 pm
2. Eco World Gallery @ Eco Spring, 1, Jalan Ekoflora, Taman Ekoflora, 81100 Johor Bahru, Johor. Saturday 31 Aug 2019, 3.00 pm
3. EcoWorld Gallery @ Eco Terraces, PT 2509, Jalan Paya Terubong, 11060 Paya Terubong, Pulau Pinang. Saturday 31 Aug 2019, 6.00 am
4. Ketuk-Ketuk Festival by RIUH
RIUH Curates will be organizing its creative bazaar, namely The Ketuk-Ketuk Festival in conjunction with the #AnakAnakMalaysia Walk event held at Shah Alam. The bazaar showcases the Malaysian culture, crafts and homegrown talents. Head on over to the festive bazaar and move to the beat of local live acts while browsing each and every pop-up stores.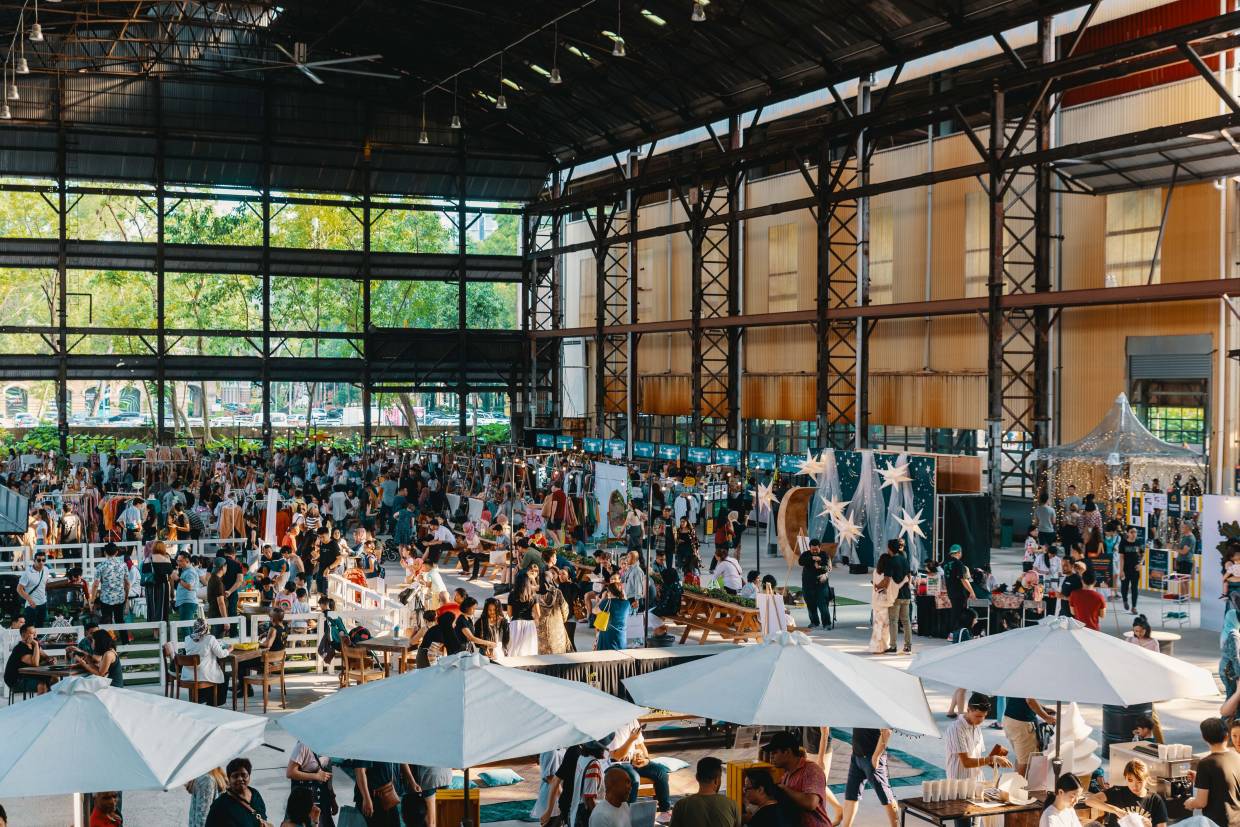 Venue: Ardance Lab @ Eco Ardence, Persiaran Setia Alam, Setia Alam, 40170 Shah Alam, Selangor
Date and Time: 31 Aug – 1 Sept, 4pm – 12am
5. HUMANS OF KUALA LUMPUR 'New Beginnings' Hosted by Diversecity
Humans of Kuala Lumpur (HOKL) photographs the people of KL, documenting the transformation, changes and diversity of our people with portraits that present a personal glimpse of the humans living in KL photo by photo.
Venue: The Intermark Kuala Lumpur, Concourse and Level 3
Date and Time: 19th Aug – 16th Sept – 10am – 10pm
Did we mention the Merdeka Craft Market at The Linc in KL, where plenty of batik, clothes, cakes and handmade accessories are on offer?
Or the local art scene at Pesta GENTA x Zine DIY Fest 2019?
Check out….
In case that is not enough, how about supporting the people that champion the idea of
conscious consumerism
?