So you've just shifted to your brand new apartment unit, you're excited and looking forward to a new chapter in your life. However, unless you want to end up a grim statistic, the first thing you should be thinking about is safety.
After all, it was just last year in 2016 that Malaysia saw an increase in home break-ins between January and April. Although total crime rates in the country have reportedly gone down year upon year (including last year), you should still keep your guard up. Whether you intend to live alone or share the apartment, you should have a certain standard of safety that you adhere to and do not compromise on, especially in today's dangerous landscape of home invasions, burglary and/or unwanted accidents.
Being in close proximity to other tenants and all kinds of activity (whether good or bad) at your complex/compound, the possibility of a security breach or disturbance is something that you should always take into consideration.
Fret not though, taking the necessary precautions is easy. It just takes a little bit of foresight, thought and a few simple steps… 
Before Settling on a Unit:
Conduct a survey
Sometimes all you have to do is open your mouth and ask. Ask your landlord or management about the security conditions as well as the security force guarding the complex. There's no such thing as too much information when it comes to knowing who is responsible for the protection of yourself. For a firsthand view, you can spend some time surveying the area, really getting to know its surroundings. This is going to be your home after all. During your visits to the apartment, try to observe the security force in action. Understand the process that takes place when tenants or visitors try to enter and leave the premises. Is there a security gate or just a cone/barricade? Is the entrance locked? Grilled?
Different complexes have different levels of security, different security protocols and also differ on the way they deal with visitors. Some simply require you to sign in with your IC/passport at the guard post. Others require guards to call the owner and confirm that the visitor should be given clearance. By making a few site visits, you should get a clearer picture of how difficult or easy it is for outsiders to stroll into your apartment complex without verification.
Check on the safety of the area
Remember, when dealing with the security of an apartment complex (especially if you are sharing your unit), there are several layers that you need to pay attention to. Aside from the complex, you also have to be aware of the area surrounding the complex. Different locations will have different rates of crime, disturbances and accidents so depending on the town or street where the apartment is located, you may want to do a little bit more research on the surrounding area. Does it have a good safety track record? Are streetlights abundant and fully functional? Find as many opportunities as you can to snoop around, speak with patrolling police officers or friends that live in the area. In today's tech driven world, you can also find out alot using the Internet. Try "googling" for news or indications of statistics in the area. Numbeo also contains crime stats for a few areas in Malaysia
Apartment Conditions
Another level of safety lies in the area directly around your unit. Ideally, you should take a walk around the exterior of your unit checking on factors like the brightness of lights in corridors, entrances into the level/floor you are on, parking areas…etc. Fire escapes are also a plus especially for high-rise buildings with many floors. Having a clear procedure, process or protocol for dealing with emergencies, disasters or evacuations is also important.
Interior Check
Just as you've diligently surveyed the exterior of your unit, you should also assess the security of your unit's interior. Look out for entry points such as broken windows as well as dangerous items lying around. Cracked walls or water stains could be indicative of leakages which, if not addressed as soon as possible, can result in a nasty fall from slipping on a wet floor.
 After Settling on a Unit:
Invest in additional security measures
If you have the budget, take some extra precautions and solidify the security of your home. Don't forget to speak to your landlord/property management company before making any permanent changes to the unit. Install a peep-hole at your door if you don't already have one. This will give you the ability to see who's at the door before opening. Here's a hint, you can also install a surveillance camera outside your front door (even if it's not on, this can act as an active deterrent). You could also look at getting a safe or locker for your valuables (such as jewelry) as well as a decent security system with door code access, fire alarms and intruder alarms. At Roomz, we have them all ready for you 🙂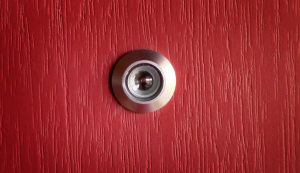 Constant Awareness
After all has been said and done, one of the best precautionary measures you can practice is the art of self-awareness. Crimes can take place when a person is on the move, either entering or exiting a building and not paying attention to the environment or people around. You don't have to be paranoid but just remember to keep your guard up and take note of anything (or anyone) that seems off. You could also learn some self-defence moves and be extra alert whenever you are in a secluded area or during moments where you may be most vulnerable. If you're a lady, carrying pepper spray or talking to someone on the phone whenever you are alone, walking or waiting…etc can be a good idea. Also, remember to trust your gut and listen to your instinct in determining whether a situation just doesn't feel right.
Roomz has entered the sharing economy with a mission to bring renters the best value in the best environment. Along with unique themes and concepts for renters, Roomz also assists property owners that are looking to make full use of their spaces. Follow our blog and find out how Roomz is disrupting the property rental industry.