You're an individual, you're in the prime of your life. You might be a working adult, a fresh graduate or a student, most likely single and located in a densely populated urban jungle. You're making THAT decision (and no we're not talking about deciding between the Adidas Manazero or the Nike Air Force 1's).
When it comes to deciding on a living arrangement that just screams YOU, many factors should be taken into consideration. You're an individual after all and depending on your personality as well as circumstances, a variety of options lie ahead of you (if you've already decided, why would you be reading this article right?)
Ever heard the saying 'one man's meat is another man's poison?'
In Malaysia/KL (as well as many other major cities in Asia), two main options should be at the top of the list for most single urbanites such as yourself.
The question running through your mind right now is most probably 'I wonder why Melanie Hamrick is still with Mick Jagger?'. No. Not that question. The other one.
Right. Which should I go for, apartment sharing or renting a studio?
First of all, let's talk about cold, hard cash…
On the flip-side, there are many options for studio apartments out there, many of which are quite beautiful. Grand studios with top-notch amenities and ample space mean that someone will be paying for it.
Face it (depending on your level of income), renting a studio in KL or a major city can get through your wallet faster than a night at Zouk with DJ Goldfish rocking the decks.
So, if your idea is to live in the city (ie: around the city centre where all the action is) and not out in the suburbs or in the middle of nowhere, apartment sharing might be the way to go.
If you're a party animal (or workaholic) who's just looking for a place to stash your wardrobe, sleep (probably while still fully dressed) and shower, apartment sharing makes even more sense.
Not only will your monthly expenditure plummet faster than store prices during the end of the year sale but you'll also have to fork out less for the initial rental deposit.
Spend smart
Saving on utilities such as water and electricity can be a God send as well, especially if you find yourself scraping the bottom of the Ramen (or Maggi mee) bowl at the end of the month. Trust me, your wallet will thank you for it.
Now, assuming that you're the kind of person that orders takeout alot, here's a simple equation. Many kinds of order-in delivery services have a minimum delivery amount. So let's say the meal you want costs 6 bucks but with that pesky 10 buck minimum, you'd probably have to purchase an additional item you didn't even want just so they will deliver and you can eat in your underwear.
Share bills
If you have roommates/housemates, all you have to do is make sure someone else at your place needs something from the menu as well and voila, bill share!
Same goes for Netflix and even magazine subscriptions.
On top of that, you get to save on gas and carpool whenever you go out to buy groceries…etc. Carpooling is an extra plus if you and your roommate work together.
Finding housemates/roommates with the same tastes in reading and viewing material can save all parties involved a whole load of cash. Win-win!
Social therapy
Now, bear in mind that this really depends on you having found the right roommates/housemates or having found a way to get along with them.
Most people do not like being lonely and especially if you're new to a city, or don't have a ready-made network of friends to socialize with, living with roommates sorts you out with instant connections. Having a roommate forces you to become more social, may build a career network and who knows, you just might make a friend for life…
Don't be gross
 Having roommates to stare and gawk at you when you pick up and eat food from behind the sofa or wear the same grimy pajamas for a week helps you becoming less gross. Living alone does have the tendency of turning you into abit of a caveman…
Learn new stuff
When you share an apartment what you get is a little city with a town hall (shared living area), recipe discovery area (communal kitchen) and among other things, you get to learn new exercise moves, find out about the latest hangouts or debate long into the night over who would win a superhero battle between Deadpool and Ironman.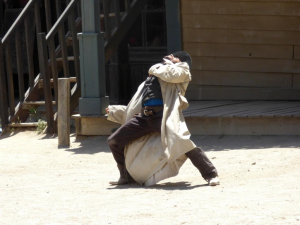 Caption: I call this exercise move 'The Gunslinger'
You may also get to learning how to do things in other ways than ways that you learned growing up and expand your understanding of different cultures and ethnic groups at the same time. Learning how to adapt and compromise comes in real handy.
Scared of the dark?
 Also, if you just so happen to be afraid of being alone (or the dark) don't worry, it's perfectly normal to get those goosebumps when your lying in bed trying to get some sleep while things go bump in the night…
Having a roommate can make you feel more secure and with more than one person at home, your chances of getting robbed may be reduced, even more so if you and your roommate keep different schedules and there's always somebody home.
Two heads are better than one
Also, having someone home during awkward emergencies, such as falling down and breaking a bone (or two) and locking yourself out/forgetting your key is beneficial.
It's convenient to have a roommate in the event that you are going to be gone for an extended period of time especially if you have a pet to feed or plants to water.
Also, (and this is probably one of the best parts) having a roommate means less work because (ideally) chores such as cleaning the kitchen will be shared along with other household maintenance work that needs to be done.
Live longer
Science has shown that people with a wider 'support network' live longer and If you've got roommates you've got people to share a good sloppy cry with.
Who knows, your health might thank you for it…
Hey, it's the 21st century, more and more people are choosing to share resources every single day, from jobs to cars, workspaces and beyond.
In fact, property expert Ernest Cheong says that it may be better to rent than buy a property these days and Malaysia's central bank, Bank Negara Malaysia also seems to concur, saying that there is a need to develop a strong rental market.
Connections are becoming even more vital so here's to the sharing economy, why not give apartment sharing a shot?
Roomz has entered the sharing economy with a mission to bring renters the best value in the best environment. Along with unique themes and concepts for renters, Roomz also assists property owners that are looking to make full use of their spaces. Follow our blog and find out how Roomz is disrupting the property rental industry.
If you are looking for apartment sharing now, why not check out the available rooms for rent?