Malaysia attracts people from around the world with its rich culture, natural attractions and ancient architecture. With the latest economic growth and progress, this country is a promising destination for all types of people, including students. For international students who would like to enjoy a unique kind of experience – being in a place like Malaysia that encourage cultural diversity has an advantage over other countries in any region or continent. Aside from the lovely beaches and breathtaking rainforests, bustling cities like Kuala Lumpur (KL) is a good reason they would prefer to study here. Plus, the living costs are comparatively lower than other Asian countries. Students can easily find a place to stay by renting a condo in popular cities such as KL with a number of varied options available.
What makes Malaysia attractive to international students?
 If you wish to study in Malaysia – you can go for a certificate or diploma course, or the undergraduate or postgraduate courses (MBA or doctorate degrees). The good news is that six Malaysian universities are listed in the top 500 of 2020's QS World University Rankings. The one with the highest rank among the six universities is University of Malaya or Universiti Malaya (UM) – it has recently been ranked at #70 in the world, #13 in Asia, #3 in Southeast Asia and the highest among all the learning institutions in Malaysia. This university is located in Kuala Lumpur. Do you know that it is also the oldest university in Malaysia? (If it might help you to decide – two Prime Ministers of Malaysia graduated from this university, not to mention the many other political, business, and cultural individual of prominence in the country).
Aside from the top-quality education, most Malaysian universities offer a unique experience to its students. How cool is that?
The Malaysia climate is predominantly tropical, warm weather prevails throughout the year.  No doubt, this country has one of the growing economies in Asia with its rich natural resources, tourism, science and medical tourism. The Malaysian healthcare system is also an advantage as attested by UNDP.  With these, Malaysia makes for an ideal destination for international students wanting to get both high-quality living and education.
One that excites an international student is the rare opportunity of living in a multi-racial and multi-cultural society. Malaysia's ethnic differences is a good exposure to students for global insights, value-added outlook in life and of course, better understanding of the number of cultural and ethnic traditions and practices throughout the world.
Malaysian Student Pass and Student Visa
The Student Pass or the Student Visa is what you need to be able to study in Malaysia. How to get a Malaysia Student Visa? All you have to do is apply online before arrival in the country.  However, the usual practice is that for the institution to apply on your behalf once you've accepted their offer.
You will need the following requirements when you decide to apply Malaysia student visa online by yourself:
Copy of your passport;
Passport-sized photograph;
Copy of your university's offer letter;
Academic certificate and transcript copies;
Medical examination prior to arrival.
This Student Pass is valid for one year.   You need to renew the pass if you will study for a course that is longer than 12 months.
Majority of the university courses are offered in English. You will have to prove English skills to be able to meet the standards of their institutions if your native tongue is non-English. But not to worry since universities can provide English proficiency lessons to help you out in this requirement. Try learning also the Malaysian conversational language. You will be able to adjust faster in your student life if you can converse in the Malay language with the locals and other students along the way.
Living Cost of a Student in Kuala Lumpur
Many people prefer to study in Malaysia since tuition fees of high quality university programs are very reasonable and pretty much affordable. Another advantage is the low living costs mainly due to the competitive rate of Ringgit compared to other currencies. This translates to savings for the students. For instance, a student may live comfortably with RM 1,200 to 1,800 (291 USD-437 USD) in his pocket.
Below is a sample computation of all costs involved while studying in Malaysia aside from the accommodation (estimates up to the highest range):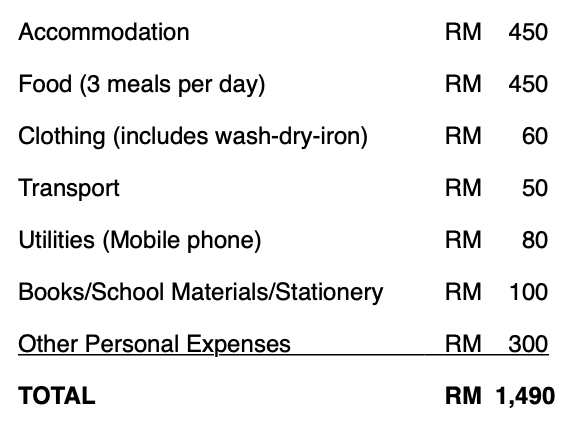 Total living cost is only about RM 1,490 or 362 USD.
Accommodation in Kuala Lumpur
 Most students pick Kuala Lumpur as their option for universities so it is logical to have accommodations in this city.  Some recommend students to live in the Serdang area or in the southern portions of KL for a shorter commute to the university. Or maybe a good idea is to search for a condo near a KTM station, or where you can have at least a 10 to 15-minute Grab ride only from your campus. It will just be a breeze to rent a condo in Kuala Lumpur – a straightforward process where rental price and rental agreements are finalized without any hassles.
Lastly, students find KL as a vibrant nocturnal hub of countless pubs and bars right on the streets and yes, classy rooftop joints within 5-star hotels. There are a variety of many exciting places to go to for your nightlife in KL.  Partygoers range from the locals, the expats, to international travellers counting the students celebrating after a gruelling week of exams and school assignments. At the strike of 10 o'clock in the evenings, most of the nightspots offer a friendly and vibrant ambience, extensive alcoholic deals and lively, danceable music until the wee hours of the next day.