South East Asia has become a high potential market for startups business in the world. Based on the report from Slush Singapore and Monk's Hill Ventures, the tech industry is prospected to grow over the next one to two years. That is also the reason why startups founder would prefer to do their business in South East Asia.
The conventional small medium enterprise (SME) currently has been helped by the development of technology. It helps the small business to reach more audience and improve their way of business. Take a look at the culinary business. The trend of delivery apps that make people easy to get any kind of food without going out is one of the big impacts for culinary business. They can get much to wider their brand and get more sales from that.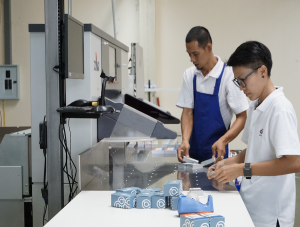 One of the high-potential business that still exists since a long time ago until now is printing business. There are many reasons why printing is still relevant even in the digital era and mostly for business. No matter how disruptive the way of our life-changing because of technology, there are still many things that we can't replace with it. As a human being, physical interaction will still become the best approach to make someone feel special. It will also be related to how you do the business, you need to concern on tangible action and interaction instead of digital. One of the tools that we can use to get interact with your target audience is by using printed promotional tools. That is why every business will still need printed materials.
In South East Asia, the printing process used to be done with a long, complicated and expensive. Most of the conventional printing company will prioritize the big corporate customers because it will reduce their production cost. This issue has made customers has less-trust on the printing company. This is where Gogoprint sees the problem and try to solve this issue in the South East Asian printing business.
Short History
On 2015, Gogoprint launch in Thailand, one of the country in South East Asia that has high market potential. Three years after that, we already expand to Malaysia, Singapore, Indonesia, and Australia.
 How We Do It
Our main vision is to make printing easy and frictionless. We are willing to help many conventional SMEs to get into the digital market era. More than three years of running, Gogoprint has succeeded in helping SMEs improve their business. We are also able to help many corporates, startups and individual business to get their printing needs with the affordable price and satisfying result. Gogoprint has helped the printing partners to keep their machines running and maximize their ROI. With the state-of-art algorithms and technology, we take orders from a large number of customers can be aggregated in the most cost-efficient and time-efficient manner. That's how we can give benefit to both customer and supplier.
Gogoprint Malaysia
Malaysia is one of the central business hubs in South-East Asia. With the big cities like Kuala Lumpur, Johor Baru, and Penang, Malaysia has attracted foreign investors from across the world. That is also the reason that makes Gogoprint decide to expand our reach to Malaysia. With the way we do the business, we hope Gogoprint Malaysia can be the best solution for the printing business in Malaysia.